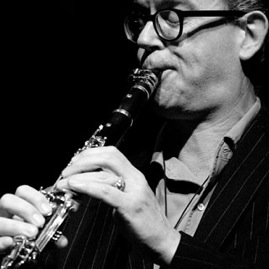 Ab Baars (Magrette, 1955)
Dutch musician-composer and bandleader Ab Baars performs on tenor saxophone, clarinet and shakuhachi. He focuses mainly on Ab Baars Solo, Baars-Buis, Fish Scale Sunrise, Perch Hen Brock & Rain, Ab Baars Trio, Duo Baars-Henneman and the ICP Orchestra.
cv
In reviews Baars' music has been characterized as joyfully obstinate, but surely appealing and as colourful as it is astonishing. It embodies the best typically Dutch improvised music has to offer. Although he seldomly uses recognizable song forms or ongoing swing rhythms, the music stays catchy, because it is stripped to the essence and clearly presented.
Ab Baars has been internationally acclaimed for both his solo and ensemble music performed in hundreds of concerts throughout Europe, North America, Brasil, Japan and Australia in the past 30 years.
Some highlights:
▪
Ab Baars solo recording And She Speaks - a collection of ballads (Wig 27) (2018) followed in 2020 by Moods for Roswell by Duo Baars-Buis (Wig 30)
▪
Fish-Scale Sunrise, a new trio started by Baars with pianist Kaja Draksler and bass player Joe Williamson, makes its recording debut on Relative Pitch Records: No Queen Rises (2018)
▪ Ab Baars Trio tour Netherlands (2013 - 2014) recorded on Slate Blue (Wig 24, 2014)
▪
Duo Baars-Henneman Autumn Songs USA Tour (2012) recorded on Autumn Songs (Wig 22, 2013)
▪
Ab Baars Trio & New York Guests Fay Victor, Vincent Chancey and Dutch poet Anneke Brassinga in Invisible Blow (2011) recorded on Invisible Blow (Wig 23, 2014)
▪
Ab Baars Trio & Ken Vandermark (2007 and 2009), recorded on Goofy June Bug (Wig 15, 2008)
▪
Kinda Dukish. The music of Duke Ellington (2004), recorded on Kinda Dukish (Wig 12, 2005)
▪
Ab Baars Trio plays music of Native Americans (1999), recorded on Songs (Geestgronden, 2001)
▪
Ab Baars Trio with trombonist Roswell Rudd (1996 & 98), recorded on Four (DATA Records, 2001)
▪
Ab Baars Trio plays the music of John Carter, recorded on A Free Step (Geestgronden, 1999)
▪
Ab Baars Trio in collaboration with the Nieuw Ensemble, shakuhachi player Yoshikazu Iwamoto and conductor Butch Morris at the Festival Improvisations/Improvisations (1996)
▪
Ab Baars Trio with soprano saxophonist Steve Lacy (1995)
Influenced by the American saxophonist Roscoe Mitchell, whom he worked with in 1986, and by his participation in the Monk Project (performed by the Instant Composers Pool, directed by Misha Mengelberg), Baars adopted a very personal style, or 'ab music' as Misha Mengelberg calls it.
At the age of 15, Ab Baars began playing the saxophone in the Philips Marching Band and other local bands in the city of Eindhoven in the Netherlands. From 1976 to 1981, he studied saxophone with Leo van Oostrom at the Rotterdam Conservatory of Music. He was granted a scholarship by the Dutch Ministry of Culture in 1989 to study with clarinettist-composer John Carter in Los Angeles. That same year Baars was presented with the prestigious Boy Edgar Award. In 2005, Baars set out playing the shakuhachi (a Japanese end-blown bamboo flute) and took lessons with Kees Kort, Christopher Blasdel and Takeo Yamashiro.
So far, Ab Baars has worked with improvisers such as Han Bennink, Jaap Blonk, Alberto Braida, Anthony Braxton, John Carter, The Ex, Cor Fuhler, Ben Goldberg, Tristan Honsinger, François Houle, George Lewis, Michael Moore, Sunny Murray, Sonic Youth, Fabrizio Spera, Cecil Taylor, Roger Turner, Ken Vandermark, Veryan Weston, Wolter Wierbos, Michiyo Yagi, poets H.C. ten Berge and Diane Régimbald, dancers Beppie Blankert, Hisako Horikawa, Masako Noguchi and Katie Duck's Magpie Company.
photo: Francesca Patella
more details: see
cv